PS4
SAVE: 65%
Ends: 27 okt. 2021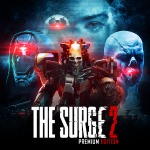 The Surge 2 - Premium Edition
Press "Notify when price drops" button to track The Surge 2 - Premium Edition price or check other PS4 deals and discounts by pressing "Discounts" button
Release date: 16 jan. 2020
Genre: Action / Role playing games
Rating:
Developer: FOCUS HOME INTERACTIVE
Cheats:
Main game: The Surge 2
Subtitles: English, French, German, Italian, Korean, Polish, Portuguese, Russian, Spanish
Voice: English, German
Ratings
Metacritic
Score
/ 100
Critics:
Metacritic
User Score
/ 10
Ratings:
PlayStation
Rating
4.59 / 5
Ratings: 71
Info
Release date: 16 jan. 2020
Genre: Action / Role playing games
Rating:
Cheats:
Main game: The Surge 2
Subtitles: English, French, German, Italian, Korean, Polish, Portuguese, Russian, Spanish
Voice: English, German
Description
Als je deze game op PS5 wilt spelen, moet je systeem mogelijk worden geüpdatet naar de nieuwste systeemsoftware. Hoewel deze game op PS5 kan worden gespeeld, zijn bepaalde functies die op PS4 beschikbaar zijn mogelijk afwezig. Zie PlayStation.com/bc voor meer informatie.
Welkom in Jericho City.

Bepantserde soldaten roepen de noodtoestand uit, robots laten een spoor van vernieling achter en een nanostorm hangt boven de stad. Verken de verwoeste stad en vecht tegen talloze gevaarlijke vijanden in slopende gevechten. Scheur uitrusting van vijanden af met het dynamische Limb Targeting System van The Surge 2.

The Surge 2 - Premium Edition bevat de volledige game en alle content van de seizoenspas. Dus ook de verhaaluitbreiding The Kraken en alle DLC met wapens en wapenuitrustingsets.

The Kraken
Ontdek de waarheid achter de VBS Krakow, die op mysterieuze wijze is gestrand in Jericho City!

BORAX-I Quantum Mace
Beuk je vijanden naar de 5e dimensie met deze krachtige knots!

Public Enemy Weapon Pack
Jaag op 13 gloednieuwe wapens, van buitgemaakte CREO-uitrusting tot met nanieten geïnfecteerde stangen!

Jericho's Legacy Gear Pack
Verlaat de stad vechtend met de brute BEAST Tank Buster, de snelle Kyoko Hacker Suit en Jericho's officiële Firetails Mascot!


Eén offline speler
Gebruikt trilfunctie DUALSHOCK 4
Via Remote Play kunnen gebruikers verbinding maken met hun PlayStation®4 of PlayStation®5 vanaf een mobiel apparaat, pc of een andere PlayStation®4 of PlayStation®5 en hun games daarop spelen.
Onlinefuncties vereisen een account en zijn onderworpen aan de servicevoorwaarden (playstationnetwork.com/terms-of-service), het privacybeleid (playstationnetwork.com/privacy-policy) en het privacybeleid van de uitgever van de game.


Het downloaden van dit product is onderhevig aan de Servicevoorwaarden van PlayStation Network en onze Gebruiksvoorwaarden voor software plus alle andere specifieke, aanvullende bepalingen die op dit product van toepassing zijn. Download dit product niet als u niet met deze voorwaarden akkoord gaat. Raadpleeg de Servicevoorwaarden voor meer belangrijke informatie.

Eenmalige licentievergoeding om naar meerdere PS4™-systemen te downloaden. Voor uw primaire PS4™ is aanmelden bij PlayStation Network niet vereist om dit te gebruiken, maar het is wel vereist voor gebruik op andere PS4™-systemen.

Lees voordat u dit product gebruikt de Gezondheidswaarschuwingen voor belangrijke gezondheidsinformatie.

Bibliotheekprogramma's ©Sony Interactive Entertainment Inc. exclusief in licentie gegeven aan Sony Interactive Entertainment Europe. Gebruiksvoorwaarden voor software zijn van toepassing, zie ook eu.playstation.com/legal voor volledige gebruiksrechten.