PS Vita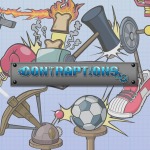 Press "Notify when price drops" button to track Contraptions price or check other PS Vita deals and discounts by pressing "Discounts" button
Ratings
Metacritic
Score
/ 100
Critics:
Metacritic
User Score
/ 10
Ratings:
PlayStation
Rating
-- / 5
Ratings: --
What's inside
○
Contraptions
Description
Compatibile con PlayStation®Vita e PlayStation®TV.

Per giocare è necessaria la memory card per PlayStation®Vita (venduta separatamente).

Quanti passi ci vogliono per cambiare una lampadina? Se la tua risposta è 10 o più, allora sei pronto per 'Contraptions' - un gioco in cui l'obiettivo è quello di correggere stravaganti congegni che eseguono compiti semplici in modi indiretti e contorti, in stile Rube Goldberg.

Usa cammelli come trampolini, bottiglie di champagne come cannoni, palloncini per sollevare oggetti, ruote di fuochi d'artificio per guidare nastri trasportatori, magneti per attirare oggetti di metallo e molti altri gadget per risolvere i puzzle e cancellare i livelli.

Caratteristiche
+ Risolvi oltre 100 puzzle stravaganti in 5 mondi diversi.
+ Crea un numero illimitato di tuoi livelli e sfida un amico a provare a batterlo.
+ Usa una miriade di gadget sciocchi dalle forbici alle mollette per il bucato.
+ Completa i livelli in più modi ... diventa più sfigato e creativo come preferisci.

Questo prodotto è disponibile nelle seguenti lingue: Inglese


1 giocatore/i
4325KB Minimo
Touchscreen
Doppie levette analogiche

Il download del presente prodotto è soggetto ai Termini di servizio e alle Condizioni d'uso del software di PlayStation Network e a qualsiasi altra condizione supplementare specifica applicabile a questo articolo. Se non si desidera accettare questi Termini, non scaricare questo articolo. Per maggiori dettagli, consultare i Termini di Servizio.
Una tantum applicabile per l'uso di contenuti scaricabili su un massimo di 3 sistemi portatili compatibili attivati.
Prima di usare questo prodotto, leggere attentamente le Avvertenze per la salute.
Library programs ©Sony Interactive Entertainment Inc. concesso in licenza esclusivamente a Sony Interactive Entertainment Europe. Si applicano i Termini d'uso del software. Si consiglia di visitare eu.playstation.com/legal per i diritti di utilizzo completi.

© 2019 Moragami, Co. Ltd. All Rights Reserved. Published by Funbox Media Ltd. © 2019 Funbox Media Ltd. The Funbox Media name, logo and brand are all copyrights of Funbox Media Ltd. All Rights Reserved.