PS4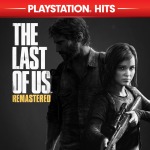 The Last of Us™ Remastered
Press "Notify when price drops" button to track The Last of Us™ Remastered price or check other PS4 deals and discounts by pressing "Discounts" button
Release date: 30 juil. 2014
Rating:
Developer: Sony Interactive Entertainment Europe
Cheats:
Subtitles: Czech, Danish, Dutch, English, Finnish, French, German, Greek, Italian, Norwegian, Portuguese, Spanish, Swedish, Turkish
Voice: English, French, German, Italian, Portuguese, Spanish
Ratings
Metacritic
Score
/ 100
Critics:
Metacritic
User Score
/ 10
Ratings:
PlayStation
Rating
4.83 / 5
Ratings: 63067
What's inside
○
The Last of Us™ Remastered
Description
Pour jouer à ce jeu sur une PS5, il est peut-être nécessaire de mettre à jour votre système avec la version la plus récente du logiciel système. Bien que ce jeu soit jouable sur une PS5, il se peut que certaines de ses fonctionnalités ne soient disponibles que sur une PS4. Consultez PlayStation.com/bc pour en savoir plus.
Le jeu de toute une génération, remasterisé sur PS4™.

Dans un monde post-pandémique hostile, Joel et Ellie, réunis par un concours de circonstances, doivent s'entraider pour survivre à un violent périple à travers ce qui reste des États-Unis.

Fonctionnalités remastérisées :
• Explorez un très beau monde décimé, qui prend une nouvelle dimension grâce à la puissance du système PlayStation®4 en haute définition 1080p.
• Plongez dans le passé d'Ellie grâce au nouveau prologue en solo, Left Behind.
• Luttez pour la survie dans les territoires abandonnés et reconquis grâce à huit nouvelles cartes multijoueur et un mode de difficulté encore plus ardu.
• Découvrez les coulisses du jeu grâce aux commentaires des acteurs et du directeur artistique.

Remarques importantes :
• Langues écrites disponibles : en, fr, it, de, es, pt, nl, da, fi, no, sv, cs, el, tr.
• Langues audio disponibles : en, fr, it, de, es.


Un seul joueur hors ligne
Multijoueur en ligne (de 2 à 8 joueurs). Un abonnement à PlayStation Plus payant est requis. Les fonctionnalités en ligne nécessitent un compte et sont soumises à nos conditions dutilisation (playstationnetwork.com/terms-of-service), à notre charte de confidentialité (playstationnetwork.com/privacy-policy) et à la charte de confidentialité de léditeur du jeu.
Utilise la fonction de vibration DUALSHOCK 4
Achats en cours de jeu facultatifs


Le téléchargement de ce produit est soumis aux Conditions d'utilisation de PlayStation Network, ainsi qu'à toute autre condition spécifique à ce produit. Si vous n'acceptez pas ces conditions, ne téléchargez pas ce produit. Consultez les Conditions d'utilisation pour obtenir d'autres informations importantes.

Frais de licence à usage unique pour télécharger vers plusieurs systèmes PS4. La connexion à PlayStation Network n'est pas requise pour utiliser cette licence sur votre PS4 principale ; elle l'est en revanche pour une utilisation sur d'autres systèmes PS4.

Consultez les "Avertissements relatifs à la santé" avant d'utiliser ce produit pour y trouver des informations importantes.

La licence de la bibliothèque de programmes ©Sony Interactive Entertainment Inc. est la propriété exclusive de Sony Interactive Entertainment Europe. Soumis aux conditions d'utilisation des logiciels. Pour consulter les droits d'utilisation complets, rendez-vous sur eu.playstation.com/legal.