PS Vita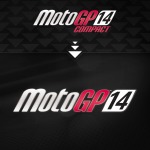 ACTUALIZACIÓN de MotoGP™14 Compact a la versión completa
MILESTONE SRL
Press "Notify when price drops" button to track ACTUALIZACIÓN de MotoGP™14 Compact a la versión completa price or check other PS Vita deals and discounts by pressing "Discounts" button
Ratings
Metacritic
Score
/ 100
Critics:
Metacritic
User Score
/ 10
Ratings:
PlayStation
Rating
4.27 / 5
Ratings: 15
What's inside
○
MotoGP™14
Description
La ACTUALIZACIÓN de MotoGP™14 Compact a la versión completa te permite disfrutar al máximo de todas las posibilidades del juego oficial del MotoGP™, con todos los pilotos de las temporadas de 2013 y 2014 y varios de los campeones más legendarios de la historia del MotoGP™. Ahora podrás competir en todos los circuitos oficiales del campeonato y retar a tus oponentes en el nuevo circuito de Argentina. También podrás poner a prueba tu habilidad en nuevos modos de juego en línea (como la modalidad de tiempos intermedios) y sin conexión (compitiendo en eventos reales de 2013), sin olvidar el apasionante modo de carrera. MotoGP™14 cuenta con un motor gráfico completamente nuevo con el que vivirás la emoción de la competición como si fueras un verdadero piloto del MotoGP™.

1 jugador(es)
Jugadores en red: 2-6
Funciones de red
1512 KB mínimo
Pantalla táctil
Panel táctil trasero
Doble joystick analógico
Micrófono

La descarga de este producto está sujeta a la aceptación de los Términos de servicio de PlayStation Network y de nuestros Términos de uso del Software, así como de cualquier condición adicional que se aplique a este producto. Si no desea aceptar estos términos, no descargue este producto. Consulte los Términos de servicio para obtener información adicional importante.
Cuota única para usar las descargas en un máximo de 3 sistemas portátiles compatibles.
Lea los Avisos de salud para obtener información de salud importante antes de usar este producto.
Programas de biblioteca ©Sony Computer Entertainment Inc. propiedad exclusiva de Sony Computer Entertainment Europe. Son aplicables los Términos de uso del Software. Consulta eu.playstation.com/legal para ver todos los derechos de uso

MotoGP™14 Compact to Full Game UPGRADE © 2014 Published and Developed by Milestone S.r.l. All rights reserved.
Copyright © 2014 Dorna Sports S.L. - All rights reserved.