PS Vita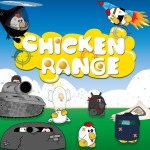 Chicken Range
FUNBOX MEDIA LIMITED
Press "Notify when price drops" button to track Chicken Range price or check other PS Vita deals and discounts by pressing "Discounts" button
Ratings
Metacritic
Score
/ 100
Critics:
Metacritic
User Score
/ 10
Ratings:
PlayStation
Rating
-- / 5
Ratings: --
What's inside
○
Chicken Range
Description
Solo compatible con PlayStation®Vita. No compatible con PlayStation®TV.

Para jugar necesitarás una tarjeta de memoria de PlayStation®Vita (se venden por separado).

Divertido y original shoot-em-up.

El objetivo del juego es disparar a los pollos usando una variedad de armas diferentes, desde pistolas, AK47, RPG… ¡hasta pistolas de rayos extraterrestres!. El juego se desarrolla en un campo dos veces más ancho que la pantalla, por lo que debes mover constantemente tu objetivo de lado a lado para llegar a todo el campo de juego.

Para aumentar la dificultad, los pollos arrojan huevos a la pantalla para oscurecer el campo de visión del jugador. Una vez que su pantalla esté cubierta ... ¡GAME OVER!

Lleva hasta 3 armas contigo al principio solo dispondrás de 4 de ellas, las armas restantes se desbloquearán a medida que avances a través de los distintos niveles.

El juego contiene 15 niveles diferentes. Cada nivel introduce diferentes enemigos con distintas habilidades y dificultades para deshacerte de ellos gracias a una variedad de protecciones mejoradas. ¡Hay pollos policía antidisturbios, pollos tanque, pollos ninja, pollos en helicóptero y muchos más!

1 jugador(es)
10000 KB mínimo
Pantalla táctil
Sensor de movimiento

La descarga de este producto está sujeta a la aceptación de los Términos de servicio de PlayStation Network y de nuestros Términos de uso del Software, así como de cualquier condición adicional que se aplique a este producto. Si no desea aceptar estos términos, no descargue este producto. Consulte los Términos de servicio para obtener información adicional importante.
Cuota única para usar las descargas en un máximo de 3 sistemas portátiles compatibles.
Lea los Avisos de salud para obtener información de salud importante antes de usar este producto.
Programas de biblioteca ©Sony Interactive Entertainment Inc. propiedad exclusiva de Sony Interactive Entertainment Europe. Son aplicables los Términos de uso del Software. Consulta eu.playstation.com/legal para ver todos los derechos de uso.

Chicken Range ©2018 FUNBOX MEDIA LTD. Developed by NYX DIGITAL LTD. Published by FUNBOX MEDIA LTD. ©2018 Funbox Media Ltd. All rights reserved. Funbox Media and the Funbox Media logo are copyright of Funbox Media Ltd. All other trademarks are the property of their respective owners.