PS4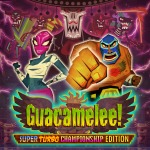 Guacamelee! Super Turbo Championship Edition
DRINKBOX STUDIOS INC.
Press "Notify when price drops" button to track Guacamelee! Super Turbo Championship Edition price or check other PS4 deals and discounts by pressing "Discounts" button
Price Stats
Lowest PS+ price
14.69 TL
Ratings
Metacritic
Score
/ 100
Critics:
Metacritic
User Score
/ 10
Ratings:
PlayStation
Rating
4.39 / 5
Ratings: 8142
What's inside
○
Guacamelee! Super Turbo Championship Edition
Description
Guacamelee! STCE, (tüm dünyadaki en güzel kız olan) Başkanın kaçırılan Kızını kurtarmak üzere şeytani Carlos Calaca ve onun ölü kölelerinden oluşan ordusuyla savaşmak için SİZİN dövüşçü rolünü üstlendiğiniz bir aksiyon platform oyunudur. Oyunda tavuklar da var.

1-4 Oyuncu
DUALSHOCK®4 Titreşim İşlevi
Uzaktan Oynama Destekli
HDTV ekran çözünürlüğü: 720p,1080i,1080p

Bu ürünün indirilmesi, PlayStation Network Hizmet Koşulları ve Yazılım Kullanım Koşulları ile bu ürün için geçerli olan belirli ek koşullara tabidir. Şartları kabul etmek istemiyorsanız bu ürünü indirmeyin. Diğer önemli bilgiler için bkz. Hizmet Koşulları.
Birden fazla PS4 sistemine indirmek için tek seferlik lisans ücreti. Bunu Ana PS4 Sisteminde kullanırken PlayStation Network'de oturum açmanız gerekmezken diğer PS4 sistemlerinde kullanırken oturum açma gereklidir.
Bu ürünü kullanmadan önce önemli sağlık bilgileri hakkında bilgi sahibi olmak için Sağlık Uyarıları kısmına bakın.
Sony Computer Entertainment Inc. Yazılım Kütüphanesi © kullanım hakları Sony Computer Entertainment Europe kuruluşuna özel olarak lisanslanmıştır ve bu çerçevedeki yazılım kullanım haklarına tabidir. Lisans ve kullanım kurallarının tümüne eu.playstation.com/legal adresinden ulaşabilirsiniz.

Guacamelee! Super Turbo Championship Edition © 2014 DrinkBox Studios Inc. Tüm Hakları Saklıdır. DrinkBox Studios Inc. tarafından Geliştirilmiş ve Yayınlanmıştır. DrinkBox, DrinkBox Studios, DrinkBox Studios tasarımı, 'Guacamelee! STCE', 'Guacamelee!' ve tüm ilişkili tasarım(lar), DrinkBox Studios Inc.'in ticari markaları ve/veya tescilli ticari markalarıdır.