PS4
SAVE: 79%
Ends: 21 Şub 2020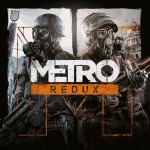 Press "Notify when price drops" button to track Metro Redux price or check other PS4 deals and discounts by pressing "Discounts" button
Price Stats
Lowest PS+ price
17.80 TL
Ratings
Metacritic
Score
/ 100
Critics:
Metacritic
User Score
/ 10
Ratings:
PlayStation
Rating
4.63 / 5
Ratings: 11770
What's inside
○
Metro Redux
Description
• Moskova Metro'sunun derinliklerine dal - 60 FPS'deki yeni nesil çarpıcı grafiklerle hayat verilen en atmosferik oyun ortamlarından birine şahit ol

• Rus kıyametinin dehşetlerine karşı cesaretli ol - gaz maskeni tak ve el yapımı silahlardan oluşan cephanelerinle ölümcül yaratıklar, düşmanlar ve seni her an yok etmek isteyen doğayla yüzleş

• Hem Metro 2033 hem de Metro: Last Light oyunu ve tüm indirilebilir içerik dahil – Metro Redux'ta bir araya gelerek epik bir tek kişilik macera yaratan ve ayrıca 10 saatlik bonus içeriğe sahip iki tam oyun var

• İki özel Oyun Stili: 'Spartan' ve 'Survival' – Survival Horror modunda tüylerini diken diken edecek görevlere katıl veya Spartan Ranger modunda dövüş becerilerini herkese göster

• Efsanevi Ranger Modu geri geldi – yüreklere korku salan Ranger Modu'nu oynamaya var mısın? Baş Üstü Gösterge ve Kullanıcı Arayüzü yok, en etkileyici deneyimi yaşatmak için sadece ölümcül bir mücadele ve kısıtlı kaynak var

Dmitry Glukhovsky'nin dünya çapında çok satan roman serisinden uyarlanmıştır

1 Oyuncu
minimum 14 GB alan gerekir
DUALSHOCK®4 Titreşim İşlevi
Uzaktan Oynama Destekli
HDTV ekran çözünürlüğü: 720p,1080i,1080p

Bu ürünün indirilmesi, PlayStation Network Hizmet Koşulları ve Yazılım Kullanım Koşulları ile bu ürün için geçerli olan belirli ek koşullara tabidir. Şartları kabul etmek istemiyorsanız bu ürünü indirmeyin. Diğer önemli bilgiler için bkz. Hizmet Koşulları.
Birden fazla PS4 sistemine indirmek için tek seferlik lisans ücreti. Bunu Ana PS4 Sisteminde kullanırken PlayStation Network'de oturum açmanız gerekmezken diğer PS4 sistemlerinde kullanırken oturum açma gereklidir.
Bu ürünü kullanmadan önce önemli sağlık bilgileri hakkında bilgi sahibi olmak için Sağlık Uyarıları kısmına bakın.
Sony Computer Entertainment Inc. Yazılım Kütüphanesi © kullanım hakları Sony Computer Entertainment Europe kuruluşuna özel olarak lisanslanmıştır ve bu çerçevedeki yazılım kullanım haklarına tabidir. Lisans ve kullanım kurallarının tümüne eu.playstation.com/legal adresinden ulaşabilirsiniz.

© and published 2014 by Koch Media GmbH. Deep Silver is a division of Koch Media GmbH, Gewerbegebiet 1, 6604 Höfen, Austria. Developed by 4A Games. 4A Games Limited and their respective logo are trademarks of 4A Games Limited. "Metro 2033 Redux", "Metro: Last Light Redux", "Metro Redux" are inspired by the novels "Metro 2033" and "Metro 2035" by Dmitry Glukhovsky. All other trademarks, logos and copyrights are property of their respective owners.