PS4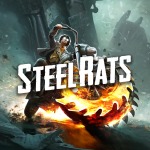 Steel Rats™
Tate Multimedia S.A.
Press "Notify when price drops" button to track Steel Rats™ price or check other PS4 deals and discounts by pressing "Discounts" button
Ratings
Metacritic
Score
/ 100
Critics:
Metacritic
User Score
/ 10
Ratings:
PlayStation
Rating
4.09 / 5
Ratings: 82
What's inside
○
Steel Rats™
Description
Bir Steel Rat ol ve düşman sürülerinin içinden geçerek onları enkaza çevir, alev saçan testere bıçaklı ölüm makinenle, yani motosikletinle her şeyi darmadağın ederken dört benzersiz karakter arasında geçiş yap. Street Rats, hassas platformlar ve yoğun araç savaşları ile bezeli çekici 2,5D akrobatik motosiklet yarış aksiyonu ile türünün diğer oyunlarına benzemez.

Uzaylı Junkbot sürülerine karşı verdiğin savaşta motosikletin senin silahındır. Tekerleklere monte edilmiş testere bıçakları, zıpkın silahları ve alev çıkaran egzozlar gibi korkunç araç silahlarını kullanarak yakın dövüşü ölümcül hassas atışlarla birleştir. Motorunu çalıştır ve akrobatik hareketler yapmak ve Junkbot'ları maharetle yok etmek için gerçekçi fizik tabanlı kontrollerde ustalaş. Yıkım ne kadar yaratıcı olursa o kadar iyidir! Duvarlara tırman, binaların kenarından ters takla at ve baş aşağı sürerken ortama kargaşa yaratan bir hava sal. Coastal City'nin sırlarını keşfet ve Junkbot istilasının gizemini ortaya çıkar.

1 Oyuncu
DUALSHOCK®4 Titreşim İşlevi
Uzaktan Oynama Destekli
HDTV ekran çözünürlüğü: 720p,1080i,1080p

Bu ürünün indirilmesi, PlayStation Network Hizmet Koşulları ve Yazılım Kullanım Koşulları ile bu ürün için geçerli olan belirli ek koşullara tabidir. Şartları kabul etmek istemiyorsanız bu ürünü indirmeyin. Diğer önemli bilgiler için bkz. Hizmet Koşulları.
Birden fazla PS4 sistemine indirmek için tek seferlik lisans ücreti. Bunu Ana PS4 Sisteminde kullanırken PlayStation Network'de oturum açmanız gerekmezken diğer PS4 sistemlerinde kullanırken oturum açma gereklidir.
Bu ürünü kullanmadan önce önemli sağlık bilgileri hakkında bilgi sahibi olmak için Sağlık Uyarıları kısmına bakın.
Sony Interactive Entertainment Inc. Yazılım Kütüphanesi © kullanım hakları Sony Interactive Entertainment Europe kuruluşuna özel olarak lisanslanmıştır ve bu çerçevedeki yazılım kullanım haklarına tabidir. Lisans ve kullanım kurallarının tümüne eu.playstation.com/legal adresinden ulaşabilirsiniz.

© 2018 by Tate Multimedia S.A. All rights reserved. The Steel Rats logo is a registered Trademark of Tate Multimedia S.A.