PS4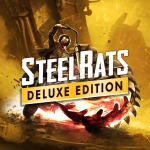 Steel Rats™ Deluxe Edition
Tate Multimedia S.A.
Press "Notify when price drops" button to track Steel Rats™ Deluxe Edition price or check other PS4 deals and discounts by pressing "Discounts" button
Ratings
Metacritic
Score
/ 100
Critics:
Metacritic
User Score
/ 10
Ratings:
PlayStation
Rating
4.58 / 5
Ratings: 12
What's inside
○
Тема Steel Rats™ (PS4)
○
STEEL RATS JAMES AVATAR (PS4)
○
STEEL RATS LISA AVATAR (PS4)
○
Steel Rats™ original soundtrack (PS4)
○
STEEL RATS RANDALL AVATAR (PS4)
○
STEEL RATS TOSHI AVATAR (PS4)
○
STEEL RATS VERONICA AVATAR (PS4)
Description
Steel Rats™ Deluxe Edition şunları içerir:
- Steel Rats™ oyunu
- Steel Rats™ teması
- Orijinal Steel Rats™ soundtrack
- 5 harika Steel Rats™ avatarı

Görsel olarak stilize edilmiş retro bir gelecekte geçen, yıkıcı, oktan yakıtlı, motosiklet savaşlarıyla ve ölüme meydan okuyan akrobatik hareketlerle dolu bu 2,5D aksiyon oyununda, içgüdüsel ve çığır açan bir evrim boyunca motor sür ve gönlünce kazalar yap. Devasa hasarlar vererek savaşan ölümcül Junkbot'ları enkaza çevirmek için her biri eşsiz yeteneklere sahip 4 karakter arasından seçim yap!

1 oyuncu
DUALSHOCK®4 Titreşim Fonksiyonu
HD Video Çıkışı 720p, 1080i, 1080p

Bu ürünün indirilmesi, PlayStation Network Hizmet Koşulları ve Yazılım Kullanım Koşulları ile bu ürün için geçerli olan belirli ek koşullara tabidir. Şartları kabul etmek istemiyorsanız bu ürünü indirmeyin. Diğer önemli bilgiler için bkz. Hizmet Koşulları.
Birden fazla PS4 sistemine indirmek için tek seferlik lisans ücreti. Bunu Ana PS4 Sisteminde kullanırken PlayStation Network'de oturum açmanız gerekmezken diğer PS4 sistemlerinde kullanırken oturum açma gereklidir.
Bu ürünü kullanmadan önce önemli sağlık bilgileri hakkında bilgi sahibi olmak için Sağlık Uyarıları kısmına bakın.
Sony Interactive Entertainment Inc. Yazılım Kütüphanesi © kullanım hakları Sony Interactive Entertainment Europe kuruluşuna özel olarak lisanslanmıştır ve bu çerçevedeki yazılım kullanım haklarına tabidir. Lisans ve kullanım kurallarının tümüne eu.playstation.com/legal adresinden ulaşabilirsiniz.

© 2018 by Tate Multimedia S.A. All rights reserved. The Steel Rats logo is a registered Trademark of Tate Multimedia S.A.