PS4 / PS3 / PS Vita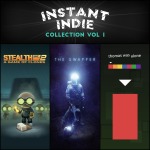 Instant Indie Collection: Vol. 1
Press "Notify when price drops" button to track Instant Indie Collection: Vol. 1 price or check other PS4 / PS3 / PS Vita deals and discounts by pressing "Discounts" button
Ratings
Metacritic
Score
/ 100
Critics:
Metacritic
User Score
/ 10
Ratings:
PlayStation
Rating
3.96 / 5
Ratings: 208
Description
Para jogar este título na PS5, o software do sistema poderá necessitar de ser atualizado para a versão mais recente. Embora seja possível jogar este título na PS5, algumas funcionalidades disponíveis na PS4 poderão estar ausentes. Consulte PlayStation.com/bc para obter mais informações.
A Curve Digital orgulha-se de apresentar a Instant Indie Collection Vol. 1 - uma coleção dos maiores sucessos Indie da Curve: Stealth Inc 2, The Swapper e Thomas Was Alone.
'Esgueira-te pelas sombras das misteriosas instalações da PTi no Stealth Inc 2, explora as profundezas de uma estação espacial abandonada no premiado 'The Swapper' e faz novas amizades no jogo de puzzles e plataformas Thomas Was Alone.

O Instant Indie é o pacote inicial perfeito para explorares os jogos independentes na PlayStation®, representando mais de 20 horas de alguns dos mais conhecidos e adorados jogos independentes para PlayStation®.

Este Pack inclui:

Stealth Inc 2
Thomas Was Alone
The Swapper'

Este produto Cross-Buy permite-te transferir as versões para a PS3™, PS4™ e a 'PS Vita'.

A transferência deste produto está sujeita aos Termos de Serviço da PlayStation Network e aos nossos Termos de Utilização do Software, além de quaisquer condições adicionais específicas aplicáveis a este produto. Se não desejas aceitar estes termos, não transfiras este produto. Consulta os Termos de Serviço para obteres mais informações importantes.
PS4: Разовая лицензионная плата за право загрузки на несколько систем PS4. Вход в PlayStation Network не требуется при использовании на вашей основной системе PS4, но необходим при использовании на других системах PS4.
PS3: Разовая плата за загрузку и использование на не более чем 2-х активированных системах PS3.
PS Vita: Разовая плата за загрузку и использование на не более чем 3-х активированных совместимых портативных системах.
Перед использованием продукта ознакомьтесь с «Мерами предосторожности», важными для вашего здоровья.
Library programs ©Sony Interactive Entertainment Inc. é licenciado exclusivamente para a Sony Interactive Entertainment Europe. Aplicam-se Termos de Utilização do Software. Consulte eu.playstation.com/legal para saber todos os direitos de utilização.

Stealth Inc (TM) and (C) Curve Digital. The Swapper (TM) and (C) Facepalm Games, Licenced by Curve Digital. Thomas Was Alone (TM) and (C) Mike Bithell, Licenced by Curve Digital.