PS4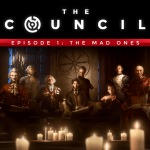 The Council - Episode 1: The Mad Ones
Press "Notify when price drops" button to track The Council - Episode 1: The Mad Ones price or check other PS4 deals and discounts by pressing "Discounts" button
Release date: 13 de mar de 2018
Genre: Role playing games / Adventure
Rating:
Developer: FOCUS HOME INTERACTIVE
Cheats:
Subtitles: English, French, German, Italian, Russian, Spanish
Voice: English
Ratings
Metacritic
Score
/ 100
Critics:
Metacritic
User Score
/ 10
Ratings:
PlayStation
Rating
4.55 / 5
Ratings: 119
What's inside
○
The Council - Episode 1: The Mad Ones
Info
Release date: 13 de mar de 2018
Genre: Role playing games / Adventure
Rating:
Cheats:
Subtitles: English, French, German, Italian, Russian, Spanish
Voice: English
Description
The Mad Ones é o primeiro dos 5 episódios da temporada de The Council.
Vive a experiência completa com a Complete Season ou todos os outros episódios com o Season Pass.

The Council é um jogo em episódios sem igual. Uma nova abordagem à Aventura Narrativa, as tuas escolhas e a evolução da personagem são fundamentais. Toma decisões difíceis e aperfeiçoa capacidades para influenciares diretamente o desenrolar da história. Com consequências permanentes, não podes voltar atrás. Mergulha numa história de intriga e manipulação, com um elenco de personagens apaixonantes, cada um com os seus próprios segredos.

Assume o papel de Louis de Richet, membro de uma sociedade secreta, convidado para visitar uma ilha privada ao largo de Inglaterra. A ele juntam-se outros convidados famosos, incluindo Napoleão Bonaparte e George Washington. A estranha natureza desta receção vai mais além dos convidados famosos: a mãe de Richet desapareceu na ilha e o ostentoso elenco tem os seus próprios planos.

Compras no jogo opcionais

1 Jogador
Compatível Com Reprodução Remota
PAL HD 720p,1080i,1080p

A transferência deste produto está sujeita aos Termos de Serviço da PlayStation Network e aos nossos Termos de Utilização do Software, além de quaisquer condições adicionais específicas aplicáveis a este produto. Se não desejas aceitar estes termos, não transfiras este produto. Consulta os Termos de Serviço para obteres mais informações importantes.
Taxa única de licença para transferir para vários sistemas PS4™. Não é necessário iniciar sessão na PlayStation Network para utilizar na sua PS4 Principal, mas é necessário para utilizar nos outros sistemas.
Antes de utilizar este produto, consulte os avisos de saúde para obter informações importantes sobre saúde.
Library programs ©Sony Interactive Entertainment Inc. é licenciado exclusivamente para a Sony Interactive Entertainment Europe. Aplicam-se Termos de Utilização do Software. Consulte eu.playstation.com/legal para saber todos os direitos de utilização.

The Council © 2018 Cyanide Studio and Focus Home Interactive. The Council is developed by Cyanide Studio and published by Focus Home Interactive. The Council and its logo are trademarks of Cyanide Studio. All other trademarks or registered trademarks belong to their respective owners. All rights reserved.