PS4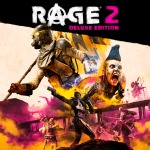 RAGE 2: Deluxe Edition
Bethesda
Press "Notify when price drops" button to track RAGE 2: Deluxe Edition price or check other PS4 deals and discounts by pressing "Discounts" button
Price Stats
Lowest PS+ price
189.50 zl
Ratings
Metacritic
Score
/ 100
Critics:
Metacritic
User Score
/ 10
Ratings:
PlayStation
Rating
-- / 5
Ratings: --
What's inside
○
RAGE2 (PS4)
○
RAGE 2: Deluxe Edition Content
Description
Uderzenie asteroidy unicestwiło 80% ziemskiej populacji, a ludzkość stanęła na krawędzi wymarcia. Na drogach grasują bezlitosne i krwiożercze gangi, a despotyczny reżim Władzy chce sprawować rządy żelaznej ręki. Grać będziesz jako Walker, ostatnia z postaci reprezentująca strażników pustkowia i zagrożenie dla Władzy. Pozbawiono cię domu i pozostawiono na pewną śmierć w świecie, gdzie czekają na ciebie niesamowite starcia pojazdów, pierwszoosobowa rozwałka na sterydach, przepełniony szaleństwem otwarty świat oraz zapalczywa walka o wolność i sprawiedliwość. Musisz przedrzeć się przez bezwzględne pustkowia, by zdobyć narzędzia i technologię, które umożliwią zadanie ostatecznego ciosu opresyjnej Władzy.

Kup Deluxe Edition, aby otrzymać:
• Rozszerzenie "Powstanie Duchów", którego premiera odbędzie się przed 31.12.2019 r.
• BFG z DOOMa
• Kody "Czarodzieja Pustkowi"
• Sztandar bitewny

Opcjonalne zakupy w grze

1 gracz
Funkcja Wibracji DUALSHOCK®4
Ekran w rozdzielczości HDTV: 720p,1080i,1080p

Pobieranie tego produktu podlega Warunkom świadczenia usługi w sieci PlayStation Network oraz naszym Warunkom korzystania z oprogramowania, a także wszelkim innym konkretnym warunkom dodatkowym powiązanym z tym produktem. Jeśli nie akceptujesz tych warunków, nie pobieraj tego produktu. Inne ważne informacje można znaleźć w Warunkach świadczenia usługi.
Jednorazowa opłata licencyjna umożliwiająca pobranie na kilka systemów PS4. Korzystanie z tego elementu na podstawowym PS4 nie wymaga wpisywania się do sieci PlayStation Network, jest to jednak wymagane w przypadku innych systemów PS4.
Przed rozpoczęciem korzystania z tego produktu należy zapoznać się z ważnymi informacjami dotyczącymi zdrowia w sekcji Ostrzeżenia zdrowotne.
Library programs ©Sony Interactive Entertainment Inc. wyłączna licencja podmiotu Sony Interactive Entertainment Europe. Obowiązują Warunki korzystania z oprogramowania. Informacje dotyczące wszystkich praw użytkowania można znaleźć pod adresem eu.playstation.com/legal.

© 2019 Bethesda Softworks LLC, a ZeniMax Media company. Developed in association with Avalanche Studios, trading as Fatalist Entertainment AB. Bethesda, Bethesda Softworks, ZeniMax and related logos are registered trademarks or trademarks of ZeniMax Media Inc. in the U.S. and/or other countries. RAGE, id, id Software and related logos are registered trademarks or trademarks of id Software LLC in the U.S. and/or other countries. All Rights Reserved.