PS Vita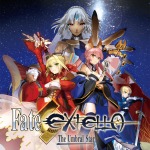 Fate/EXTELLA: The Umbral Star
Marvelous Europe Limited
Press "Notify when price drops" button to track Fate/EXTELLA: The Umbral Star price or check other PS Vita deals and discounts by pressing "Discounts" button
Ratings
Metacritic
Score
/ 100
Critics:
Metacritic
User Score
/ 10
Ratings:
PlayStation
Rating
4.33 / 5
Ratings: 3
What's inside
○
Fate/EXTELLA: The Umbral Star
Description
Compatible con PlayStation®Vita y PlayStation®TV.

Para jugar necesitarás una tarjeta de memoria de PlayStation®Vita (se venden por separado).

¡Libra delirantes batallas y vive una historia épica! En el reino digital de SE.RA.PH, la Guerra del Santo Grial ha terminado, pero nuevas amenazas acechan al nuevo amo. Los Sirvientes que quedan tejen alianzas, preparándose para un conflicto que puede destruir SE.RA.PH.

Fate/EXTELLA: The Umbral Star reúne en una misma obra al afamado guionista Nasu Kinoko, al creador original Takashi Takeuchi y a la diseñadora de personajes Aruko Wada, una banda sonora original de TYPE-MOON y un elenco de voces célebres en japonés, con nombres como Sakura Tange, Mamiko Noto, Ayako Kawasumi, Rumi Okubo, Maaya Sakamoto y muchos, muchos más. En esta entrega aparecen personajes de Fate/stay night, Fate/Apocrypha y Fate/Grand Order, cada uno con sus propias habilidades y estilo de juego, listos para enfrentarse en combates tan frenéticos como intensos, realizar asombrosos ataques 'Noble Phantasm' e impresionar tanto a neófitos como a fans de la serie.

Este producto es compatible con los siguientes idiomas; Inglés


Compras dentro del juego opcionales

1 jugador(es)
Modo Ad Hoc 2 jugadores
1024 KB mínimo
Pantalla táctil
Doble joystick analógico

La descarga de este producto está sujeta a la aceptación de los Términos de servicio de PlayStation Network y de nuestros Términos de uso del Software, así como de cualquier condición adicional que se aplique a este producto. Si no desea aceptar estos términos, no descargue este producto. Consulte los Términos de servicio para obtener información adicional importante.
Cuota única para usar las descargas en un máximo de 3 sistemas portátiles compatibles.
Lea los Avisos de salud para obtener información de salud importante antes de usar este producto.
Programas de biblioteca ©Sony Interactive Entertainment Inc. propiedad exclusiva de Sony Interactive Entertainment Europe. Son aplicables los Términos de uso del Software. Consulta eu.playstation.com/legal para ver todos los derechos de uso.

© 2016 Marvelous Inc. Licensed to and Published by Marvelous Europe Limited.