PS4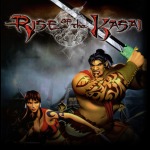 Rise of the Kasai
Sony Interactive Entertainment Europe
Press "Notify when price drops" button to track Rise of the Kasai price or check other PS4 deals and discounts by pressing "Discounts" button
Ratings
Metacritic
Score
/ 100
Critics:
Metacritic
User Score
/ 10
Ratings:
PlayStation
Rating
4.4 / 5
Ratings: 94
What's inside
○
Rise of the Kasai™
Description
Hace mucho tiempo se escribieron siniestros hechizos con el poder de esclavizar a nuestro mundo. Pero antes de que pudiesen conjurarse, se robaron, separaron y ocultaron. Ahora, una siniestra secta conocida únicamente como Kasai espera a que vuelvan a descubrirse…

Protege el mundo de los Kasai en este capítulo anterior (y siguiente) al clásico título de acción y aventuras de The Mark of Kri. Regresan el guerrero Rau y su guía espiritual Kuzo, acompañados por tres nuevos personajes jugables, incluida la hermana de Rau, Tati.

Estos clásicos de PlayStation®2 se ven increíbles en alta definición en PlayStation®4 y cuentan con trofeos, incluido el codiciado platino, además de compatibilidad con Share Play, Uso a distancia, canales de actividades y funciones de segunda pantalla, para ver los manuales del juego en PlayStation®Vita o PlayStation®App.

Puesto que este título se ha convertido de la versión original de PlayStation®2 a la versión de PlayStation®4 y no es compatible con periféricos de PlayStation®2, es posible que en algunos momentos la mecánica de juego difiera de la original y que algunas funciones no estén disponibles.

Salida de vídeo HD 720p,1080i,1080p

La descarga de este producto está sujeta a la aceptación de los Términos de servicio de PlayStation Network y de nuestros Términos de uso del Software, así como de cualquier condición adicional que se aplique a este producto. Si no desea aceptar estos términos, no descargue este producto. Consulte los Términos de servicio para obtener información adicional importante.
Cuota de licencia única para descargar en múltiples sistemas PlayStation®4. No hace falta iniciar sesión en PlayStation®Network para usarla en su PS4 principal pero sí hay que hacerlo para el uso en otros sistemas PlayStation®4.
Lea los Avisos de salud para obtener información de salud importante antes de usar este producto.
Programas de biblioteca ©Sony Computer Entertainment Inc. propiedad exclusiva de Sony Computer Entertainment Europe. Son aplicables los Términos de uso del Software. Consulta eu.playstation.com/legal para ver todos los derechos de uso

© 2005 Sony Computer Entertainment America LLC. Rise of the Kasai is a trademark of Sony Computer Entertainment America LLC.