PS Vita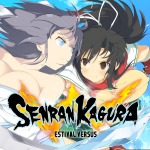 SENRAN KAGURA ESTIVAL VERSUS
Marvelous Europe Limited
Press "Notify when price drops" button to track SENRAN KAGURA ESTIVAL VERSUS price or check other PS Vita deals and discounts by pressing "Discounts" button
Ratings
Metacritic
Score
/ 100
Critics:
Metacritic
User Score
/ 10
Ratings:
PlayStation
Rating
4.81 / 5
Ratings: 269
What's inside
○
SENRAN KAGURA ESTIVAL VERSUS
Description
Compatible con PlayStation®Vita y PlayStation®TV.

Para jugar necesitarás una tarjeta de memoria de PlayStation®Vita (se venden por separado).

Cuando aparece un fenómeno místico que lleva a las mejores shinobi del mundo a una dimensión paralela, todo lo que saben de la vida y la muerte se desmorona. Las chicas, que aterrizan en un mundo similar a una isla veraniega, se pondrán a prueba física y mentalmente para prepararse para los retos imprevistos que les esperan.

Con el mayor plantel de luchadoras hasta la fecha, SENRAN KAGURA ESTIVAL VERSUS ofrece movimientos ninjas explosivos, combos hilarantes de quitarse ropa y un argumento genial. Los personajes favoritos anteriores regresan con nuevos movimientos y habilidades mejoradas, así como con nuevos personajes que expanden aún más el plantel con nuevos desafíos y técnicas que dominar.

Además de la plétora de contenido para un jugador, SENRAN KAGURA ESTIVAL VERSUS también presenta partidas multijugador online, en las que se permite hasta 4 jugadores de PlayStation®Vita, los cuales podrán combatir a la vez en modos de juego como Shinobi Deathmatch, Understorm y Capture the Bra.

Este producto es compatible con los siguientes idiomas; Inglés


Compras dentro del juego opcionales

1 jugador(es)
Modo Ad Hoc 2-4 jugadores
Solo en red: 2-4 jugador(es)
Funciones de red
6000 KB mínimo
Pantalla táctil
Doble joystick analógico
Sensor de movimiento
Micrófono

La descarga de este producto está sujeta a la aceptación de los Términos de servicio de PlayStation Network y de nuestros Términos de uso del Software, así como de cualquier condición adicional que se aplique a este producto. Si no desea aceptar estos términos, no descargue este producto. Consulte los Términos de servicio para obtener información adicional importante.
Cuota única para usar las descargas en un máximo de 3 sistemas portátiles compatibles.
Lea los Avisos de salud para obtener información de salud importante antes de usar este producto.
Programas de biblioteca ©Sony Interactive Entertainment Inc. propiedad exclusiva de Sony Interactive Entertainment Europe. Son aplicables los Términos de uso del Software. Consulta eu.playstation.com/legal para ver todos los derechos de uso.

© 2016 Marvelous Inc. Licensed to and Published by Marvelous Europe Limited.