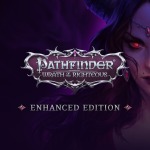 PS4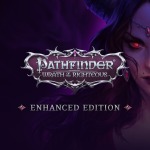 Pathfinder: Wrath of the Righteous
Press "Notify when price drops" button to track Pathfinder: Wrath of the Righteous price or check other PS4 deals and discounts by pressing "Discounts" button
Ratings
Metacritic
Score
/ 100
Critics:
Metacritic
User Score
/ 10
Ratings:
PlayStation
Rating
5 / 5
Ratings: 1
What's Inside
○
Pathfinder: Wrath of the Righteous
○
Pathfinder: Wrath of the Righteous Tracker
Description
Para jugar a este juego en PS5, puede que tu sistema tenga que actualizarse a la versión más reciente del software. Aunque este juego es compatible con PS5, es posible que algunas funciones para PS4 no estén disponibles. Consulta PlayStation.com/bc para obtener más información.
Descubre la historia
Tu camino te lleva a la Herida del Mundo, donde la apertura de una brecha que conduce al Abismo ha desatado el terror sobre la tierra. Durante más de un siglo, las naciones vecinas han luchado valientemente para rechazar a los invasores... en vano.

Ahora tienes la ocasión de poner fin al conflicto, pero el camino a la salvación dista mucho de estar claro. ¿Te convertirás en un ángel resplandeciente apoyado por nobles paladines? ¿Un nigromante con hordas de muertos vivientes inmortales a tu servicio? ¿O tal vez en otra cosa? Lidera a tus ejércitos y desafía a los poderosos señores demoníacos. Tu cruzada desencadenará una serie de acontecimientos que os cambiarán a ti y al mundo para siempre.

TU HÉROE: A TU MANERA
Crea cualquier personaje imaginable con la flexibilidad, profundidad y riqueza de las reglas de la primera edición de Pathfinder. Elige de entre 25 clases, 12 razas y más de mil conjuros, dotes y aptitudes para crear tu propio estilo de juego.

CADA DECISIÓN TIENE CONSECUENCIAS
Tus decisiones tienen un mayor peso que nunca. Tu objetivo está claro, pero dependerá de ti el camino que sigues para alcanzarlo. ¿Quién morirá? ¿Quién vivirá? ¿Quién se quedará? ¿Quién se marchará? Toma tus decisiones y mira cómo cambia el mundo que te rodea.

UNA NUEVA FORMA DE LUCHAR
Disfruta de dos modos de combate para matar a tus enemigos: en tiempo real con pausa o por turnos. Cambia de modo a tu antojo, siempre puedes ir tan lento (o tan rápido) como quieras. Las reglas únicas de Pathfinder también te permiten ejecutar maniobras de combate avanzadas, como combatir a lomos de tu corcel. ¡Úsalas bien!

REÚNE A TU EQUIPO
Hay más de 10 compañeros únicos dispuestos a unirse a tu causa. Gánate su respeto y confianza y te acompañarán sin importar qué peligros os esperen. Y si acabáis llevándoos mal... tal vez sea el momento de separaros.

LIDERA LA CRUZADA
Para purgar la corrupción demoníaca de esta tierra, no basta un simple grupo de aventureros. Dirige la cruzada hasta la victoria, tanto como estratega, controlando la batalla con una vista aérea, como ejerciendo de comandante de campo en el nuevo modo de combate táctico.

ELIGE TU CAMINO
Explora nueve sendas míticas diferentes: obtén aptitudes extraordinarias y da forma a todo lo que sigue. Tus decisiones pueden transformarte en un ángel celestial, un furioso demonio, un poderoso liche, un embaucador astuto, un eón de otro mundo, un rebelde azata, un sabio dragón de oro o un insaciable enjambre andante... o también puedes seguir siendo mortal y seguir el duro camino de convertirte en una leyenda viva.


Un único jugador offline
Usa la función de vibración DUALSHOCK 4
Juego sin conexión activado


La descarga de este producto está sujeta a la aceptación de los Términos de servicio de PlayStation Network y de nuestros Términos de uso del Software, así como de cualquier condición adicional que se aplique a este producto. Si no desea aceptar estos términos, no descargue este producto. Consulte los Términos de servicio para obtener información adicional importante.

Cuota de licencia única para descargar en múltiples sistemas PlayStation®4. No hace falta iniciar sesión en PlayStation®Network para usarla en su PS4 principal pero sí hay que hacerlo para el uso en otros sistemas PlayStation®4.

Lea los Avisos de salud para obtener información de salud importante antes de usar este producto.

Programas de biblioteca ©Sony Interactive Entertainment Inc. propiedad exclusiva de Sony Interactive Entertainment Europe. Son aplicables los Términos de uso del Software. Consulta eu.playstation.com/legal para ver todos los derechos de uso.