PS4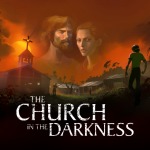 The Church in the Darkness
Press "Notify when price drops" button to track The Church in the Darkness price or check other PS4 deals and discounts by pressing "Discounts" button
Ratings
Metacritic
Score
/ 100
Critics:
Metacritic
User Score
/ 10
Ratings:
PlayStation
Rating
3.5 / 5
Ratings: 6
What's inside
○
TheChurchInTheDarkness
Description
Una secta no hace que te sientas obligado a unirte a ella. Pero te da la bienvenida. Te entiende. Te envuelve hasta que sus palabras se convierten en la verdad absoluta. Te completa.
A finales de los años 70, los carismáticos Isaac y Rebecca Walker lideraron la Misión de Justicia Colectiva. Etiquetados como radicales y perseguidos por el gobierno de los Estados Unidos, se trasladaron junto con sus seguidores al lugar donde creyeron que crearían una utopía socialista: las selvas de Sudamérica. Allí levantaron Freedom Town. Pero los familiares de los seguidores, abandonados en los Estados Unidos, comenzaron a preocuparse: ¿qué está pasando exactamente en ese complejo de la selva?
¿Cuán peligrosos son los Walker? ¿Hasta dónde llegarás para desvelar la verdad y salvar a Alex? ¿Podría todo esto haber sido diferente?

Este producto es compatible con los siguientes idiomas; Inglés


1 jugador
Salida de vídeo HD 720p,1080p

La descarga de este producto está sujeta a la aceptación de los Términos de servicio de PlayStation Network y de nuestros Términos de uso del Software, así como de cualquier condición adicional que se aplique a este producto. Si no desea aceptar estos términos, no descargue este producto. Consulte los Términos de servicio para obtener información adicional importante.
Cuota de licencia única para descargar en múltiples sistemas PlayStation®4. No hace falta iniciar sesión en PlayStation®Network para usarla en su PS4 principal pero sí hay que hacerlo para el uso en otros sistemas PlayStation®4.
Lea los Avisos de salud para obtener información de salud importante antes de usar este producto.
Programas de biblioteca ©Sony Interactive Entertainment Inc. propiedad exclusiva de Sony Interactive Entertainment Europe. Son aplicables los Términos de uso del Software. Consulta eu.playstation.com/legal para ver todos los derechos de uso.

The Church in the Darkness © 2018 and ® Paranoid Productions LLC. All Rights Reserved.