PS4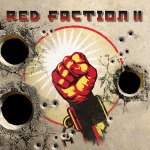 Red Faction II
THQ NORDIC GMBH
Press "Notify when price drops" button to track Red Faction II price or check other PS4 deals and discounts by pressing "Discounts" button
Ratings
Metacritic
Score
/ 100
Critics:
Metacritic
User Score
/ 10
Ratings:
PlayStation
Rating
4.24 / 5
Ratings: 182
What's inside
○
Red Faction II
Description
Tierra, siglo XXII. Cinco años desde la rebelión en Marte. Los últimos 15 años, Sopot, el corrupto dictador, ha oprimido a los habitantes de la Commonwealth. Su inagotable búsqueda de la unificación con la vecina República Unida ha sumergido al pueblo en unos derramamientos de sangre y pobreza innecesarios. Los barrios están empapelados con propaganda, y el Edificio de Información Pública, erigido como un tributo al déspota, no deja de emitir comunicados loando sus victorias mientras más soldados caen en el frente. Hartos de años en el frente, un grupo de supersoldados, equipados con nanotecnología, juran derrocar al dictador y restaurar la paz.
Defenderás a tu país como Alias, un experto demoledor, con la ayuda de otros cinco miembros del escuadrón, cada uno con su método de destrucción. Lucha a través de múltiples niveles utilizando vehículos, un arsenal de armas especializadas y brutales explosivos en tu enfurecida cruzada para derrocar al gobierno.

1-2 jugadores
4GB mínimo
Función de vibración DUALSHOCK®4
Salida de vídeo HD 720p,1080i,1080p

La descarga de este producto está sujeta a la aceptación de los Términos de servicio de PlayStation Network y de nuestros Términos de uso del Software, así como de cualquier condición adicional que se aplique a este producto. Si no desea aceptar estos términos, no descargue este producto. Consulte los Términos de servicio para obtener información adicional importante.
Cuota de licencia única para descargar en múltiples sistemas PlayStation®4. No hace falta iniciar sesión en PlayStation®Network para usarla en su PS4 principal pero sí hay que hacerlo para el uso en otros sistemas PlayStation®4.
Lea los Avisos de salud para obtener información de salud importante antes de usar este producto.
Programas de biblioteca ©Sony Interactive Entertainment Inc. propiedad exclusiva de Sony Interactive Entertainment Europe. Son aplicables los Términos de uso del Software. Consulta eu.playstation.com/legal para ver todos los derechos de uso.

Red Faction II™ — © 2017 THQ Nordic AB, Sweden. Red Faction II, THQ and their respective logos are trademarks and/or registered trademarks of THQ Nordic AB, Sweden. All rights reserved. All other trademarks, logos and copyrights are the property of their respective owners.